One thing that has helped businesses from being swallowed in the last year is the instant asset write off scheme and as of the 6th October, businesses can now can instantly write-off the full value of equipment purchases, thanks to changes announced in the Federal Government's COVID-19 recovery Budget.
For businesses, the relief of the governments increased, and extended asset write-off offer is a saving grace.
Previously, a portion would have been tax-deductible in the first year, and the rest would have been depreciated over future years. The change is likely to encourage businesses to bring spending forward and invest more now.
This is because the full amount of an asset can now be claimed as a tax deduction upfront, in the first year it is used or installed, reducing the amount of tax a business will pay.
The measure is available to all businesses with a turnover of up to $5 billion.
The Government will also introduce a 'loss carry-back measure', allowing losses made to June 2022 to be offset against profits made in or after the 2018-19 financial year.
This means businesses can purchase equipment and immediately deduct the full cost to generate a tax loss, which could result in the refund of tax paid in the past two financial years.
The idea of this positive tax break is to stimulate the productivity of Australian businesses, helping increase sales, allowing the employment of more staff and helping the bottom line - meaning their more likely to survive and succeed. Propping up businesses, as explained earlier, is key to helping overall that large private sector, and continue economic growth.
Want to know more?
Being able to write-off assets purchased is all well and good, but if you don't have access to the funds to purchase them, then the scheme won't be of much use to your business. So, if you would like help obtaining finance to make the most of the instant asset write off scheme for your business, get in touch with us today.
We can present you with financing options that are well suited to your business's needs now, and into the future. Contact the team at Morris Finance on (03) 5223 3453.
Almost every business in Australia will be able to instantly write-off work assets as part of a Budget measure to stimulate the economy.
Read More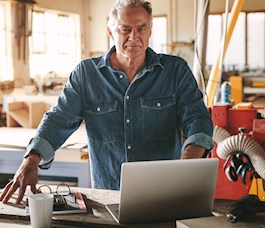 The Victorian government has announced a $100 million package of grant funding for the state's sole traders, who have previously been excluded from the Business Support Fund package.
Read More